International Conference on Migrants' Integration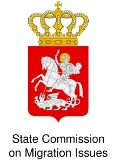 The State Commission on Migration Issues and the EU-funded ENIGMMA 2 ("Sustaining Migration Management in Georgia") project implemented in Georgia by the International Centre for Migration Policy Development organises the International Conference – "Dialogue on Migrants' Integration – Challenges, Benefits and good Practices" in Tbilisi on 8 and 9 February 2018.
The Conference aims at bringing together local and international practitioners, policymakers, scholars and researchers, to discuss best practices and lessons learned in regard to the integration of migrants within the Member States of the European Union (EU MS) and in the certain EaP countries, as well as existing challenges, needs and opportunities brought by immigration and sustainable ways to deal with them, including possible policy recommendations. These topics will be discussed in a comparative manner by analysing and assessing the practical samples by applying an academic viewpoint and vice versa.
This two-day conference is envisaged as a great opportunity for Georgian policymakers, practitioners and international experts to come together to share their experiences, knowledge and research findings, to promote their understanding of the integration of migrants from a local, regional and broader inter-regional perspective. In the long term, the purpose and an ultimate objective of the conference is to further develop and foster critical exchange on migration and integration, as well as to support evidence-based policy making in this field by providing guidelines on successful integration measures.
This website was created with the support of "Consolidating Reintegration Activities in Georgia" a project supported by the European Commission and Implemented by the Danish Refugee Council. The opinions expressed on this Web Site are those of the authors and do not necessarily reflect the views of the European Commission or the Danish Refugee Council