Special Guidelines Elaborated for Migration Profile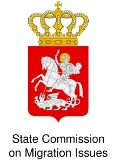 The State Commission on Migration Issues approved the Migration Profile of Georgia by the end of 2015. Unlike its predecessors, the 2015 Migration Profile is a qualitatively new, a so-called medium version document based on the new methodology of collecting and processing statistical data. This new format is oriented on consumers and serves the purpose of providing information to the latter in the easiest way possible.
When discussed at the international forums, Georgian model of Migration Profile evoked a big interest amongst international organizations working in the field of migration. Hence, it was decided that Secretariat of the State Commission would develop guidelines for elaborating 'medium' version and short (thematic) profiles so that the interested actors are familiar with methods and approaches used while working on the document.
The SCMI Secretariat finished the work on the development guidelines in May 2016. The document was agreed with the agencies involved in the process of its elaboration and published on the website of the SCMI. The document has been developed under support of the ICMPD as part of the EU funded project Enhancing Georgia's Migration Management (ENIGMMA).
Download document: