Brief Migration Profile on Remittances Developed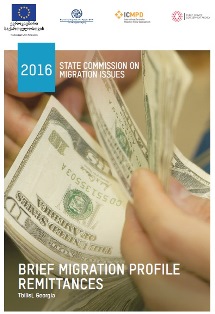 The State Commission on Migration Issues is periodically publishing various information and analytical documents highlighting trends and development perspectives in the field of migration in Georgia.
One of such documents is Migration Profile of Georgia 2015, the thematic approach of which served the basis for developing a so-called Brief Migration Profile focused on the comprehensive analysis of remittances. In the process of developing the Profile, the SCMI Secretariat had a close cooperation with National Bank of Georgia since majority of statistical data has been provided by this institution. Along with statistical data, the Profile's impact chapter also gives the analysis of the research findings on spending remittances on the household level in Georgia.
This website was created with the support of "Consolidating Reintegration Activities in Georgia" a project supported by the European Commission and Implemented by the Danish Refugee Council. The opinions expressed on this Web Site are those of the authors and do not necessarily reflect the views of the European Commission or the Danish Refugee Council