Glossary of Migration Related Acronyms Developed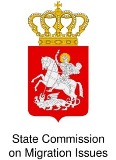 The Secretariat of the State Commission on Migration Issues developed a short glossary of migration related acronyms (abbreviations). The glossary combines more than 180 acronyms with English and Georgian definitions, and like the Glossary on Migration, aims at introducing a unified terminology to be used by international and non-governmental organizations working in the field of migration while elaborating relevant documents.
We hope the glossary will be a useful tool as well for other actors interested in the field of migration.
This website was created with the support of "Consolidating Reintegration Activities in Georgia" a project supported by the European Commission and Implemented by the Danish Refugee Council. The opinions expressed on this Web Site are those of the authors and do not necessarily reflect the views of the European Commission or the Danish Refugee Council