International Summer School on Migration Research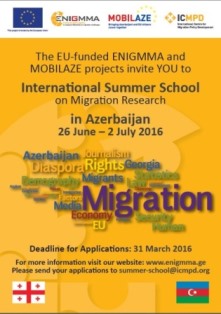 The "International Summer School on Migration Research" is organised within the framework of two EU-funded projects, the "Enhancing Georgia's Migration Management" - ENIGMMA project implemented in Georgia by the International Centre for Migration Policy Development (ICMPD) in cooperation with the State Commission on Migration Issues of Georgia (SCMI) and the "Support to Implementation of the Mobility Partnership with Azerbaijan" - MOBILAZE project implemented in Azerbaijan by ICMPD in cooperation with the Azerbaijani state institutions involved in migration management. The Summer School will take place in Azerbaijan from 26 June to 2 July 2016.
International academia experts from i.a. the Migration Observatory at the University of Oxford, the Sorbonne University School of Economics and the Maastricht University Graduate School of Governance as well as Azerbaijani and Georgian academia experts will be lecturing and mentoring the participants of the summer school. In total, up to 50 students from media, international law/ migration law, economy, demography and social and political sciences from Georgia and Azerbaijan as well as Georgian and Azerbaijani diaspora members can take part in the summer school which will run from 26 June to 2 July 2016. The one-week summer school will provide research-oriented, multidisciplinary and innovative academic lectures, seminars and projects on issues related to the migration situations and migration policies in Georgia, Azerbaijan and the EU. Teaching will be accompanied by research work, projects and discussions.
During the summer school the academia experts will provide an overview on different migration topics such as introduction to migration research, migration and development, migration and the economy, perception of migrants, migration law, etc. The participants of the summer school will have the opportunity to prepare a research paper/ project before the summer school and to present and discuss their research projects at the summer school with the lecturers; in addition, discussions and seminars will be used to finalise these research projects.
The most successful students will have the possibility to publish their research paper in the summer school reader after the end of the summer school. Participants who will successfully complete the programme will be awarded with the ENIGMMA and MOBILAZE projects Summer School Certificate.
The summer school will be held in English language, thus a proficient knowledge of English is required. Students of the abovementioned disciplines, as well as young professionals from state institutions and civil society organisations working on relevant migration topics are eligible to apply. All students and academia experts will receive board and lodge free of charge, travel costs will be covered by the projects. No participation fee will be charged. The application form is attached to this document. The deadline for applications is 31 March 2016.
More information can be found on the ENIGMMA website: http://www.enigmma.ge/news/international-summer-school-on-migration-research-2/
This website was created with the support of "Consolidating Reintegration Activities in Georgia" a project supported by the European Commission and Implemented by the Danish Refugee Council. The opinions expressed on this Web Site are those of the authors and do not necessarily reflect the views of the European Commission or the Danish Refugee Council